After four weeks of being of no-fixed abode it felt a little weird flying back into Brisbane yesterday and realising it's not home anymore. I found myself looking at it through a slightly different lens as I drove around and ticked off the jobs I needed to do.
I'd booked a hotel down at Kangaroo Point – Il Mondo – figuring it was close to the old family home, the State Library where I was teaching today, and the airport for flying back to Roobi and Capt G tomorrow.  When I strode out the door this morning to see the sunrise I found myself captivated by the changes in the suburb. Brisbane is all grown up. Chic apartments line the river where once warehouses and dry-docks jostled with wharves whose ironbark pylons tilted precariously as they succumbed to old age.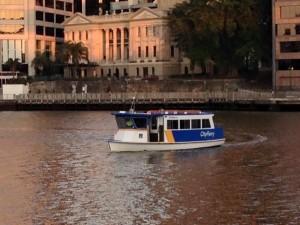 A put put ferry was leaving a silvery wake as it pulled into the industrial sized terminal. I miss the rickety wooden jetty and the smell of aging wet timber. Overhead the throaty rumble of the Story Bridge was comforting and familiar. Still tall and strong, it seems more graceful than I remember it. Maybe it's the curve of its span against the angles of the high-rises that creep closer and closer.
Tonight I had dinner in a restaurant called Medley, down on the waterfront facing New Farm.  The ambience was wonderful, the wait staff friendly and the food delicious. It was busy. I was the only single there, and I'm well used to that, so the curious glances made me smile. I'd love to know what they were thinking though. The conversations around me were fascinating. The little snippets drifted in on the wind. There was a birthday, a meeting of old friends. A couple not much older than myself, their conversation coming in comfortable fits and starts. The level in the wine bottles dropped as the volume increased.
As I paid the bill I asked the restaurateur how long they'd been open. 'Three days,' he said. He's done well because the evening was orderly and calm.
I walked back to the hotel and couldn't help thinking that the new walkway along New Farm looks as though it's been designed for giants. It may withstand a flood, but it doesn't have half the charm of the old floating pontoon…
Back in my hotel room I discovered what all the shouting and groaning was about up the road at the Kangaroo Point Hotel. The All Blacks destroyed the Wallabies. The upside is the night will probably be a whole lot quieter than if the scores had been reversed.
Tomorrow I'll be back home where my heart is, grateful for having spent the day with fellow writers and for having seen Brisbane from yet another perspective. I wonder what I'll discover next time I visit?