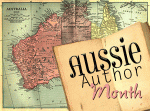 Ever wanted to know just a little more about a character in a story? I frequently find myself wondering about characters long after I've finished a book, so today I'm putting one under the spot light.
Karly Lane has kindly allowed me to interview Kate, her heroine in North Star, her latest release by Allen & Unwin. Here's what Kate had to say earlier this week.
Kate, I really enjoyed reading your story as told by Karly Lane in North Star, but I'm curious about the woman behind the story.

Your grandparents were clearly very influential in your life. What are some of your favourite memories of your grandmother?

My Gran was a very special woman. I don't think I truly appreciated how amazing she was until she was gone, you know?

It's funny, as a kid, you see things so different…almost innocently. It hasn't been until I've had children of my own and grown up, that I look back at things and see them in a whole new light…there's been so many times that I've wished I could reach out and call her to say, "now I understand."

My favourite thing I remember about my gran, was her singing. She loved Elvis. She used to hum his songs as she did the housework. I still can't hear Love Me Tender, without thinking of her.

It's wonderful the way a song can evoke such strong memories isn't. Your Gran sounds like a very wise woman. What are a couple of the important lessons you learned from her?

I think  the most important lesson she taught me was how to be strong. She was the strongest person I knew and always so dignified, no matter what was happening around her.

She also taught me the meaning of love. I think if I hadn't had Gran, my life would have turned out very different. She made sure I had a shimmer of a childhood, and I'm thankful that I had her in my life.

What was it like going to school in the country and how different was it for your own children?

Stepping back into Widgerry High that first day I went up to enroll Georgia, I felt like I'd stepped through a time machine. Sure they'd painted the walls with 'clever colours' that some colour therapist had discovered improves learning and stimulates the mind, but other than that, the place was pretty much the same as I remembered it.

Georgia didn't appreciate how good she had it back in the city. I mean, the kids went to something after school every day of the week; yoga, interpretive dance, soccer, ballet, karate. It was madness, running all over the place every afternoon, dropping one kid off here, picking up the other one from there, trying not to forget which one was where…actually it was exhausting! But you do it to give your kids the advantages you never had.

When I was going to school, we had maths, English, Science and PE. After school, we went home did our homework and then as most kids lived on a property, there were jobs to do, feeding animals, helping their parents, there wasn't any after school activities to go to, except maybe scouts and girl guides, but my grand father thought it was a waste of time, so I spent a lot of time wandering North Star.

It was definitely a culture shock for the kids, coming out here. Suddenly there wasn't  all the extracurricular activities and frantic pace of the city. They had to make their own entertainment, and it was nice to slow down a few gears, to spend some quality time together…well, after Georgia stopped hating me and blaming me for ruining her life, that is!

Teenage girls are definitely their own separate species! You married young. What pressures did that bring to your marriage?

I think the biggest one was you didn't have a chance to work out who you were before you suddenly became Mrs someone and then Mum. Maybe if I'd been a little more mature, I'd have been able to see a lot of my husbands problems coming before they turned into addictions. Or maybe I wouldn't, who knows?

As a child what did you dream of becoming when you grew up?

To tell you the truth, I really didn't think about some wonderful career. I think I used up all my imagination coming up with exotic careers for my Mother, to tell the kids at school when they wanted to know why I lived with my grandparents.

The truth wasn't something you told people.

All I really wanted to be was a good mother. I wanted to have lots of kids and a husband who came home at five and called out, "Honey, I'm home!"

I just wanted to belong to a real family.

Belonging is such a primal thing for us isn't it and I always wonder if it's stronger for women. What did you dream for your children?

I wanted them to have everything I never had. I hope if they can't have everything, they at least know I did the best I could for them.

What's your star sign?

Scorpio.

Your favourite music?

Love Keith Urban and The McClymonts and a new comer named Jesse Emmanuel- do yourself a favour and look her up! She's awesome!

Your favourite movie?

Pretty woman, you can't go past a modern day fairytale.

It's such an uplifting movie isn't it. Thanks for chatting with me today, Kate. It's been lovely meeting you and wishing you all the best for your family.

Thanks Helene! I hope you enjoyed my story in North Star.
It was fun doing the interview and I hope Kate and Karly enjoyed it as much as I did. Are there any characters you'd like to sit down and chat with it? Next week I'm interviewing Claudia from Lisa Heidke's book, Claudia's Big Break, so drop back then.