My guest today is debut Penguin Australia author Cathryn Hein. I  met her in person at this year's RWA conference and snaffled one of the last copies of Promises at the bookstore!! It's a wonderful story.
I hope you enjoy learning more about our latest Australian Rural Romance Author.
Cathryn, congratulations on your debut novel, 'Promises.' You must be very excited to see your book on the shelves.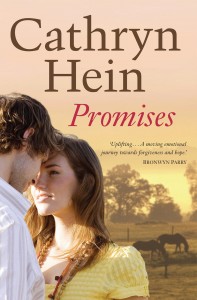 Thanks, Helene.  I'm thrilled to see 'Promises' out. I always had great belief in the story and this is in the realm of dreams come true.
The horse racing industry is a fascinating setting for a story. When did you first develop a passion for horses?  Are you still involved in equestrian events?
I know my first word wasn't 'horse' but it should have been! I was born besotted with the creatures, which is no surprise given my father's family has been involved with horses for years. As a child my shelves were lined with model horses and I was a prolific reader of horse stories. I'd stop to pat any I came by and would spend the rest of the day sniffing my hand for more of that lovely horsey smell.
When my parents finally caved in and bought me my first horse Mysty (don't you love the name and spelling? Ahh, the romanticism of youth!) I was the happiest girl in the world. I would have let her sleep on the floor of my bedroom if I'd been allowed.
Sadly, I'm not riding anymore, although I would take it up again in a heartbeat. I adore going to the races and love to watch equestrian events, plus I read all the horse magazines. So currently I live a vicarious equestrian life, but one of these days…
I'm sure you'll find the time to ride again, Cathryn, since you're obviously so passionate about it. Where did the inspiration for 'Promises' start? Was it character or plot driven? Was there a setting that begged to be showcased?
Definitely setting. I wanted to write a horse book set in either the south east of South Australia or western Victoria and when I started brainstorming the story the image of Aaron's yard, Hakea Lodge, came so vividly I had to use it. The characters developed from that point and the plot arose from them.
Anyway, I had to write it. There just aren't enough horsey romances in the world!
Indeed there aren't! Since I'm sure you have many more stories to write you can be the founding author of a new trend!
I know you've published Short Stories and e-books previously. How did that experience help or hinder being published by Penguin?
It helped. A lot. I did things the hard, old fashioned way, honing my craft over a number of years and across several manuscripts. I entered romance writing contests and learned from the feedback, and I can't express how precious my critique partners were during that period. How precious they still are now, for that matter.
Then I started experimenting with novellas and short stories, and I liked what I was achieving, so started sending them out into the world. To my delight they did well.
Shorter works are wonderful teachers. They allow you to explore different styles and genres, and teach you to make every word count. With my ebook novellas, I was blessed with excellent publishing houses and an amazing editor who taught me a great deal, and this learning I apply to my longer novels.
A good editor is worth their weight in gold! I learnt so much from Bernadette Foley at Hachette and she never once resorted to a blood stained axe to nudge me in the right direction…
Call stories are endlessly fascinating. What was yours?
They are, aren't they? I adore a good call story. They never fail to make me smile.
I heard from Karly Lane (North Star) that Penguin was on the hunt for rural romances and I had another book I thought they might like. So in May last year I posted a query, synopsis and the first three chapters off.  Months passed (as it does in publishing) and I received an email saying that it wasn't quite what they were after, so I replied with a pitch for 'Promises', asking if they'd be interested in reading the synopsis and some chapters. The answer was 'yes'.
Things happened very fast after that. Next thing I know I had a request for the full and much excitement. Luckily, this also happened just before the 2010 Romance Writers of Australia conference, so I managed to meet my now editor, Belinda Byrne, in person and talk about the book and my writing experience.  A few weeks later, Belinda rang to tell me Penguin wished to acquire 'Promises', and my super clever agent negotiated a two book deal.
Besides the absolute thrill of selling, the relief was incredible. I'd been writing since I was a teenager. This was a dream I'd always hoped to achieve and had worked very hard to reach. To have it come true with 'Promises' – a romance featuring horses, the exact genre I always wanted to write – was truly wonderful.
Where to next? Are you working on another story now? Can you share any glimpses of it?
I recently completed the second book and it's with Penguin now.  This one is set in the Hunter Valley on a racehorse spelling property. At the moment I'm nutting out the finer details of a third book. The synopsis is done, so it's just a matter of completing some research and refining the characters and a few plot points. All going well I'll begin work on that in the next week or so.
The Hunter Valley is another gorgeous setting for a story. I hope we can look forward to that one being released early in 2012. What advice can you share with aspiring authors?
Write a lot. Read a lot. Learn your craft. Find yourself great critique partners. But most of all believe in your stories.
Five Quickies
Your favourite book?
That's such a difficult question. I have so many favourite books, but I'll start with the one that made me fall in love with horse stories all those years ago – Walter Farley's The Black Stallion.
Your favourite movie?
I can't help it. I'm going to have to admit to adoring Love Actually. But I also love Mama Mia and Across the Universe and pretty much any other film I can sing along to.(Oh yes! Love actually is my favourite Christmas movie!!)
Do you have music you write to and if so what is it?
I used to write with music playing but now I prefer quiet.  If I do listen to music, it'll be something in French or Italian as I find the lyrics less distracting. I do, however, brainstorm to music. It can be a wonderful inspiration.
What's your comfort food when you're writing?
Coffee! (Naturually 🙂 )
What's your favourite part of Australia?
All of it. Although, despite the cold and wet, I think I'll always have a soft spot for the south east of South Australia.
Cathryn, thanks so much for dropping by my blog. All the very best with PROMISES and looking forward to reading many more horsey romances!!
Cathryn Hein was born in South Australia's rural south-east. With three generations of jockeys in the family it was little wonder she grew up horse mad, finally obtaining her first horse at age 10. So began years of pony club, eventing, dressage and showjumping until university beckoned.

Armed with a shiny Bachelor of Applied Science (Agriculture) from Roseworthy College she moved to Melbourne and later Newcastle, working in the agricultural and turf seeds industry. Her partner's posting to France took Cathryn overseas for three years in Provence where she finally gave in to her life-long desire to write. Her short fiction has been recognised in numerous contests, and published in Woman's Day.

Now returned to Newcastle, Cathryn writes full-time
Find Cathryn at www.cathrynhein.com
Follow her at www.facebook.com/cathrynhein or www.twitter.com/CathrynHein
PROMISES

A father with something to hide, a jockey with a taste for blackmail, a man with an agonising secret … and a young woman in love, defying them all.

Sophie Dixon is determined to leave her tragic past behind and forge a bright future on her beloved farm. While looking to buy a new horse, she is drawn into her neighbour Aaron Laidlaw's orbit, despite the bad blood between their families.

As the racing season unfolds, Sophie and Aaron's feelings for each other deepen. But Aaron is torn, haunted by a dark secret he fears can never be forgiven – especially by Sophie.

Sophie believes herself strong, but the truth behind her mother's death will test her strength, and her love, to the limit. She's been broken once. No one wants to see her broken again. Least of all the man who has grown to love her.

From an exciting new Australian voice comes this compelling story about love, loyalty and forgiveness.