One of the tiny pleasures of spending so much time on flights being repositioned to different bases as a passenger, rather than working as the operating crew, is being able to watch movies. On today's flight home the movie was 'Salmon Fishing in The Yemen' and what a delight!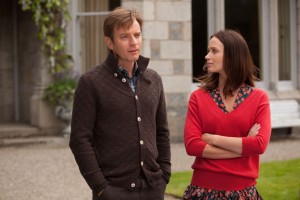 I've always had a soft spot for Ewan McGregor with his disarming smile, soft voice and dry humour. In this movie he was perfect as an asperger salmon scientist who unbuttons his straight-laced personality and takes a leap of faith. The story has drama, politics, humour as only the Brits can do, and a deeply satisfying love story. I laughed, I cried, I was uplifted as I watched the characters grow and change and endure. And find love!
I've done a number of interviews recently talking about writing and it's great to be able to highlight the relevance of romance in our books by pointing out that our screens (big and small) are full of rich love stories. From the remakes of Jane Austin's classics books to 'The Vow', from 'Man on the Ledge' to 'Avatar' they all have romance at their heart.
In a world where the news in our papers and on our screens is more often full of tragedy and horror why wouldn't we seek out romance and joy for our entertainment. Nothing wrong with optimistic endings!
Don't miss seeing 'Salmon Fishing in The Yemen' – despite the clunky title it's full of wonderful storytelling and all the elements of a good romance.