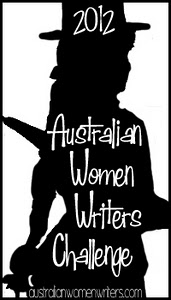 Talk about scraping home by the skin of my teeth! As 2012 draws to a close I thought I'd best post my completed list for the Australian Women Writers Challenge. I'm a little stunned that I found time to read so many.
A very big thank you to Elizabeth Lheude for instigating this wonderful challenge. It's taken on a life of its own and is ready to go for 2013. Thanks also to the various book bloggers like Book'd Out and others for joining up with the moderators from Goodreads to keep the momentum building. It was wonderful to be there in AWWC12's infancy and I hope I'm still joining in for many years to come. Great that something which started with a blog post and a discussion on the web about the paucity of reviews for books written by Australian women could lead to such a groundswell of support along with the introduction of the Stella Award. People Power!
I did plan on reviewing many of these books, but this year was more challenging than I anticipated. Consequently I only reviewed a couple.
I hesitate to rank the books as I delighted in all of them. I will say that I'm now a devoted fan of Malla Nunn, Posie Graeme-Evans and PA O'Reilly. Many of the stories I read this year are by authors I know and I religiously read each of their new releases as they hit the shelves. Since I know I'm biased I think it's better to leave scores and ranks to those more removed from the writers!
So, enough of my ramblings, here's my completed list. They are in the order I found them on my bookshelves – apologies for those I've missed out listing!
AWWC12
The Voyager, Mardi McConnochie
Toots – Woman in a Man's World, Donna Vawdrey
Alliance Forged, Kylie Griffin
The Girl in Steel Capped Boots, Loretta Hill
Night's Cold Kiss, Tracey O'Hara
Murder In Devon, Maggi Andersen
Caleb's Crossing, Geraldine Brooks
The Year of Wonders, Geraldine Brooks
Bridesmaid Says I Do, Barbara Hannay
Falling for Mr Mysterious, Barbara Hannay
Cocaine Blues, Kerry Greenwood
Sharp Shooter, Marianne Delacourt
Stage Fright, Marianne Delacourt
Sharp Turn, Marianne Delacourt
Seven Nights in a rogue's bed, Anna Campbell
Brumby's Run, Jennifer Scoullar
One Perfect Night, Rachael Johns
Everything Changes But You, Maggie Alderson
The Mother's Group, Fiona Higgins
Sister's Pact, Ali Ahearn and Ros Baxter
Seer of Sevenwaters, Juliet Marillier
Ina's Story, Catherine Titasey
House of Memories, Monica McInerney
Lola's Secret, Monica McInerney
The Island House, Posie Graeme Evans
Grease Monkey Jive, Ainslie Paton
Operation Summer Storm, Karlene Blakemore Mowle
Operation Willow Quest, Karlene Blakemore Mowle
Operation Swift Mercy, Karlene Blakemore Mowle
Small Town Storm, Elise K Ackers
Chains of Revenge, Keziah Hill
Fine Colour of Rust, PA O'Reilly
Absolution Creek, Nicole Alexander
Stella Makes Good, Lisa Heidke
Cathryn Hein, Heart of the Valley
A Beautiful Place to Die, Malla Nunn
A Duchess to Remember, Christina Brooke
The Hypnotist's Love Story, Liane Moriarty
Manhattan Dreaming, Anita Heiss
Women of the Outback, Sue Williams