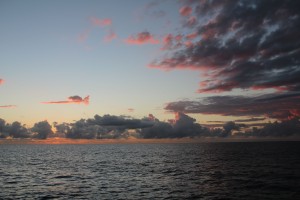 Crossing the bar means many things to many people. Alfred Lord Tennyson's beautiful poem always makes me cry with its promise and its farewell.
A  bar crossing can be the start of an adventure or the finish, where safe harbour and family and friends beckon. It can be a treacherous bar, with currents and eddies ready to snare the unwary, or a glassy calm mirror with only welcome in its waters. Whatever its meaning,  today we made our first crossing in Roo Bin Esque.
The Wide Bay Bar at the bottom of Fraser Island has a reputation as being irascible and occasionally petulant so we set off at 5 am from our mooring at Mooloolaba and headed north to catch the afternoon high tide. Sunrise didn't disappoint.
With following winds we made good speed up past the Sunshine Coast and the Tewantin Coloured Sands. I found time to write, (and perhaps have a nap or two – bobbing along in Roo is very soothing.) GW kept interrupting as we finally had dolphins pay us a visit, a boat manage to be on opposite tack and hell bent on holding his course, and of course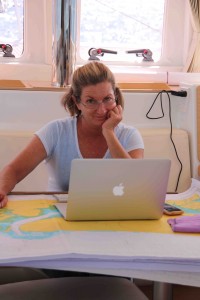 the scenery kept needing attention.
But eventually we arrived at the start of the crossing. With lifejackets on, including Zeus, hatches all battened down, sails stowed and motors at the ready we began our crossing.
Roo Bin Esque is a stately kind of vessel. She reminds me of a well corseted matron in full flight with her chin up, but with a sexy little wiggle and a twinkle in her eye. (In fact she reminds me of one friend's mother in particular!!) She steamed through the bar with nary a flutter of her eyelids and forty minutes later we sailed peacefully into the Sandy Straits. It was almost an anticlimax except that, like so many things on this voyage, it was our first crossing, our first test of vessel and sailors. Zeus passed with flying colours as did Roo.
Today's crossing was the continuation of our journey, the promise of tomorrow, another step in our adventure. We'll have many more bars to cross, metaphorical and actual, and no doubt some of those will be hairy, exhilarating and treacherous. For now we've ticked that box. It's dinner time and GW's on duty. Left overs are on the menu.
Mother Nature provided another beautiful end to the day.