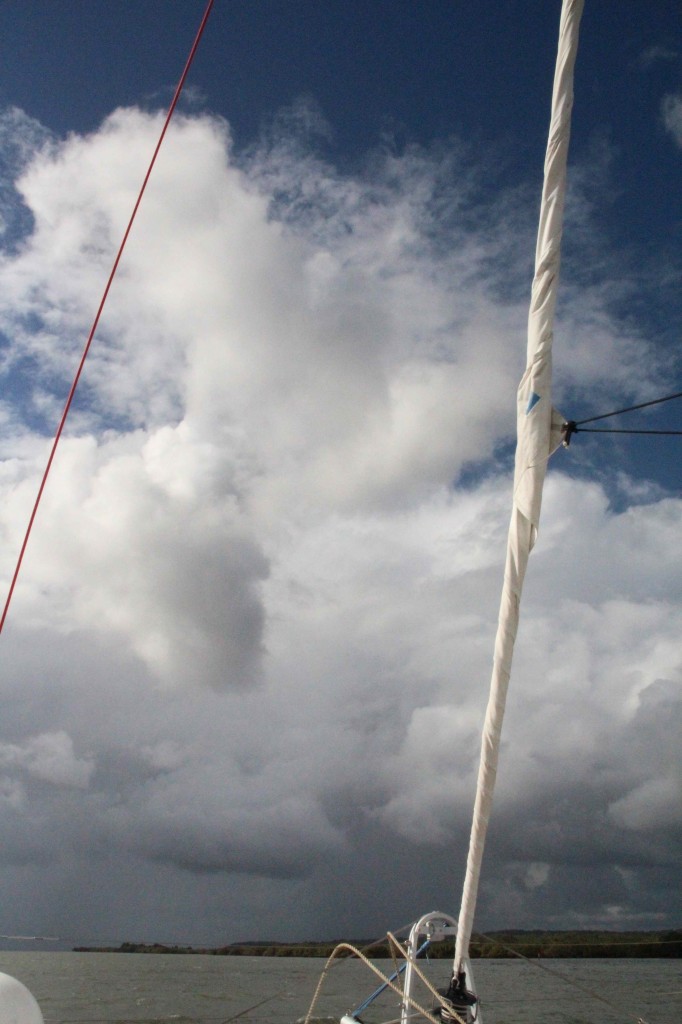 I knew that wind this morning was strong enough to blow a dog off its chain. We left the safety of Pelican Bay and headed north under storm sails – two handkerchiefs wouldn't have looked out of place up our mast! Roo Bin Esque lifted her skirts and scooted along in the gusty winds and the only draw back was knowing the channel ahead through the Sandy Strait was very twisting and shallow – even for a catamaran. Mid-morning the local Coast Guard stations were broadcasting sécurité messages with strong wind warnings. We slowed down, started the engines and dropped the sails. Even then with current and wind we were whistling along at 7 kts.
Just before lunch time, Huey,  (he's responsible for the wind) and Neptune, (bloke with a trident who looks after the ocean), teamed up to give us a reminder that we are mere mortals (and relative novice seafarers…) Nothing gets a sailor's attention more than an 'insufficient depth' alarm on their navigation system. Who knew we could move so fast!
Thankfully we snuck through that section without grounding and then anchored up to wait for the tide to rise some more. It was a salutory reminder that conditions can and do change and charts aren't always accurate. Complacency will bite every time.
When thunderstorms started rolling in from the east we decided a safe anchorage would be the wisest course so we headed for a spot to the south of Kingfisher Bay resort. In the space of fifty metres we went from manic whitecaps, pouring rain and howling wind to a gentle little spot in the lee of some impressive sand dunes.
What else is a man to do but go fishing! (I promise you he is fishing 🙂 ) Oh, and it's another sunset, of course.