Celebrations! According to my dentist I have the teeth of an 18 year old. Shame my knees are more like 60… But hey, it was a wonderful day all round!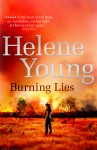 I'm absolutely delighted that BURNING LIES has been shortlisted for the 2013 Romantic Book of the Year. This was a book without a home for several months so it's a wonderful validation of my publisher's belief in the story. A heartfelt thank you to Ali Watts and Penguin Australia, and to my agent, Clare Foster.
Congratulations to all the finalist. There are some very familiar names there – authors whose books I devour as soon as they're released so it's wonderful to be listed alongside them. I'll be there in Freo to help the winners celebrate!
A very big thank you to Dorothy Bramitch for coordinating the RUBY award. It's a huge task and keeps getting bigger every year. RWA is run by volunteers and it's a credit to them that it's such a professional organisation.
Yesterday also saw me hit the half way mark on BANKSIA POINT. There's still a lot of words to write and a whole lot of shaping to do during the editing process before the book will be ready for my publisher, but we're on track for a late April release, 2014, which is very exciting.
And the icing on such a big day? The Maroons beat the Blues 🙂 In fact they thrashed them in good old fashioned Lang Park style (I can't get used to calling it Suncorp Stadium…) So the stage is set for the third game to be an absolute thriller – I do love a little suspense in my life!