Today's guest is a 'new to me' writer, Nicole Flockton and I'm looking forward to reading her latest release, RESCUING DAWN.
I asked Nicole about her writing space. Since our recent move aboard a catamaran I'm even more curious about where writers write! So please welcome Nicole 🙂
Peaceful Writing Places – Umm not me…
I was asked to do a post about writing in a peaceful place or where I can go to let the creative juices flow and I can get my story down.
I think I work better with noise. My writing desk is in our family room so the TV on in the background is my constant companion. I think if I had to write in the peace and quiet I just might fail!
I try and write wherever I can. My son plays baseball so I'll take my IPad or laptop to his practices and write there. Its in the sun and I'm getting fresh air.
I'm actually writing this blog post at my daughter's dress rehearsal for her dance recital. I've learned to adapt my style to suit wherever I find myself having a solid block of time where before I would read, I now use the time to write.
With summer coming the kids will want to go to the pool so I'll be bringing the IPad and while they are swimming I'll be writing.
I found myself having to wait for my kids to do a 'talent' show at school. There was not enough time between school drop off and when the talent show started for me to go home. So I brought my laptop and I got words down. I actually found I quite enjoyed sitting in the car writing. As you can see from the picture.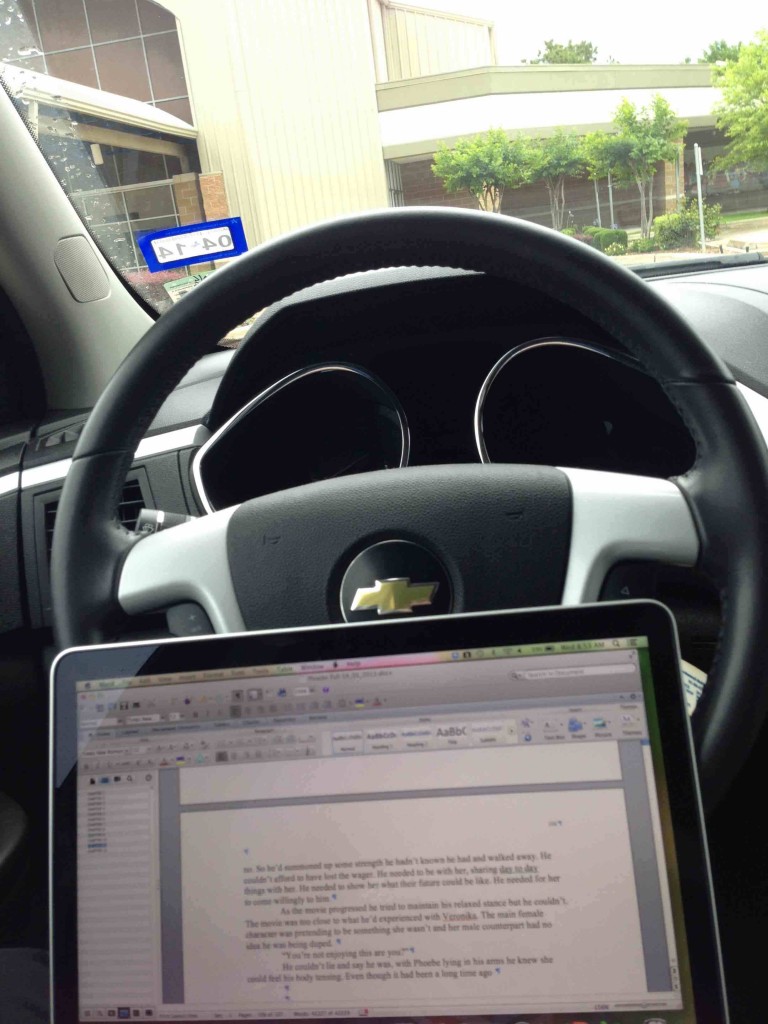 So I would love to say that I got to a little corner of my garden and let the creative juices flow through me but that's not the case. I think I need to have noise and chaos for the juices to flow.
Thanks, Nicole. As someone who writes on aircraft, in airport lounges, cafes and now the deck of a yacht I can relate to the  idea that chaos around a writer is a necessary form of white noise. All the best for the rest of your blog tour.
You'll find Nicole over at the Revising and Editing Blog on Thursday 27th June.
Meanwhile I'd love to know where you read or write? Do you have a quiet space or a bustling buzzy corner in the world? One lucky commentor will win a kindle copy of RESCUING DAWN.
He helps save lives, now he wants to save hers.

Dawn Granger has loved and lost and it's a road she's not prepared to travel again, that is until her past turns up and has her questioning her resolve.

Andrew Holmes has sailed the globe numerous times, when he almost loses his life, he decides he needs to give something back so he returns home and trains as a paramedic. When he runs into his former sweetheart he is surprised to find an attraction he thought dead come to life. When he sees the sadness in Dawn he knows he will do anything to make her smile again.

Dawn tries to resist Andrew but their past pulls at her in ways she thought long dead. Can she trust a man who's run out on her once before? Can she risk putting her heart on the line again? Or will it all be taken from her again.

Read an Excerpt

Read Reviews

Buy Links: Crimson Romance Amazon
Nicole Flocton

On her very first school report her teacher said 'Nicole likes to tell her own stories'.

It wasn't until after the birth of her daughter and after having fun on the community board of eharlequin.com that she finally decided to take the plunge and write a book.

The stories she writes are contemporary romances with either a medical setting or in the boardrooms of high powered business. Nicole enjoys taking two characters and creating unique situations for them.

Apart from writing Nicole is busy looking after her very own hero – her wonderfully supportive husband, and her two fabulous kids.

There will be a kindle copy giveaway of RESCUING DAWN to one commenter!

Nicole on the web: