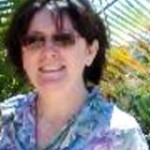 Today's guest is someone who's been with me on a parallel writing journey for about thirteen years. It's fabulous to see her debut novel 'ALIEN, MINE' out and about. I've read some very early drafts of the opening chapters and it's been amazing watching Sandra's writing bloom (a bit like her gorgeous garden!) It was also wonderful to see ALIEN, MINE hit the Amazon Rankings and climb rapidly. So please welcome Sandra Harris.
Thank you for inviting me, Helene, I'm thrilled to be here! J
You asked about my garden or peaceful writing corner. Well, I have a couple of places where I love to either write or sit back, relax and let a story percolate. Like you I have a K9 supporter. When I'm working in my study she usually lies under the piano stool, snoring (as they do). This is her doing her fierce beastie impression hunting fish in the shallows out in the bay—not that she ever catches any, but it's great fun!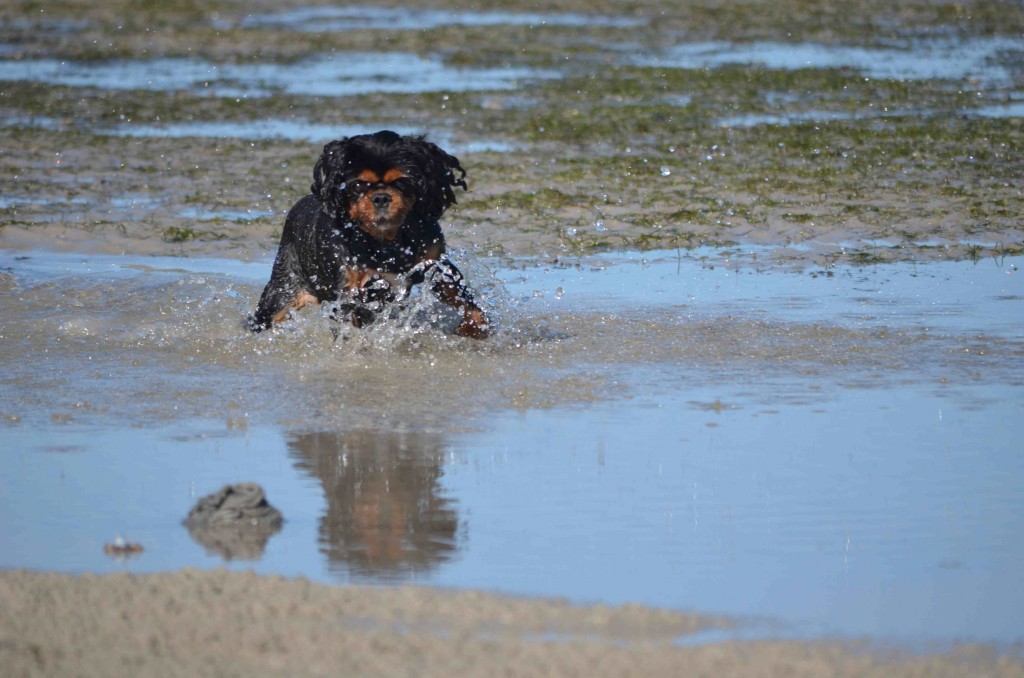 The bay is one of my favourite places, with the occasional inspiration swimming by.

At home, when the weather's nice, you can find me in the garden, armed with iPad and Bluetooth keyboard, hopefully writing up a storm. J The scent of this murraya hedge when in full bloom is divine and very relaxing.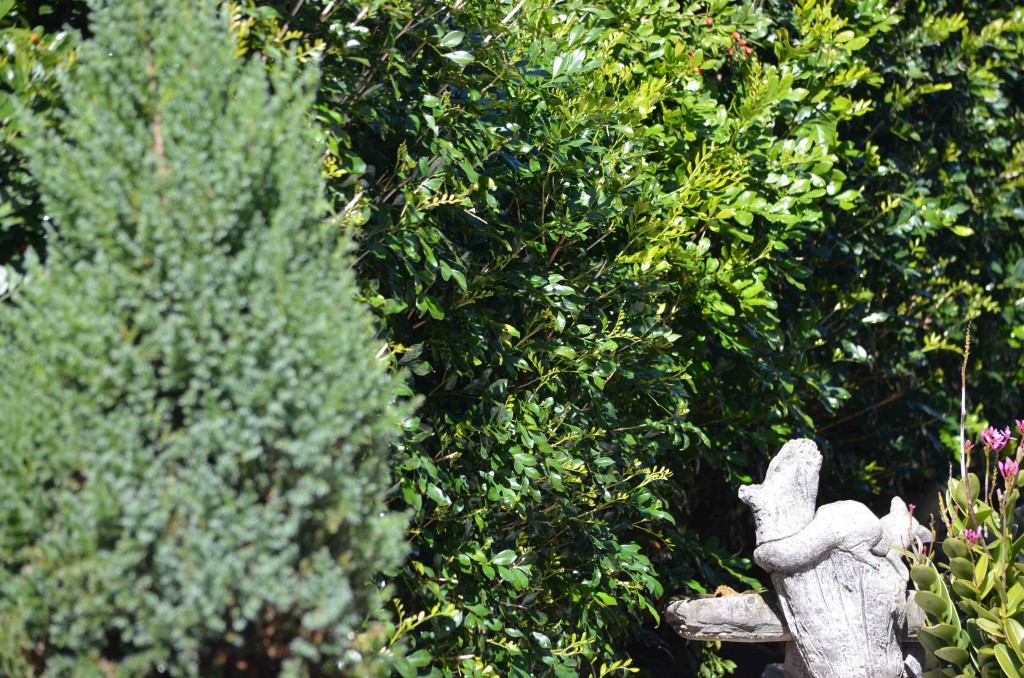 Jonothan, my gargoyle, keeps intruders at bay. (He has a co-starring role in a future book)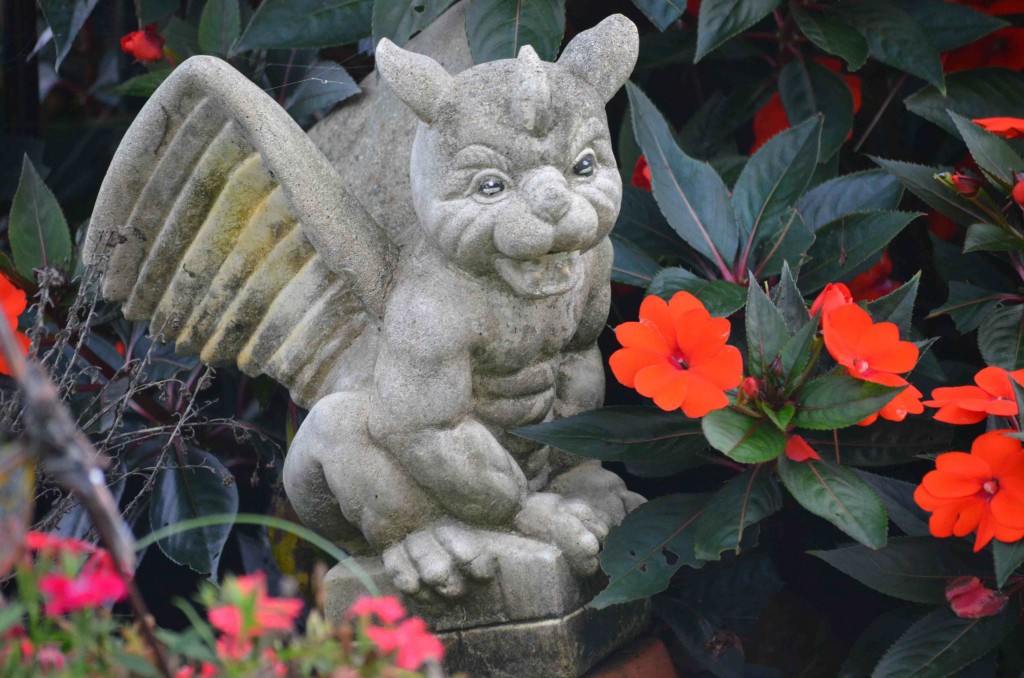 And Peter Rabbit tends the violas.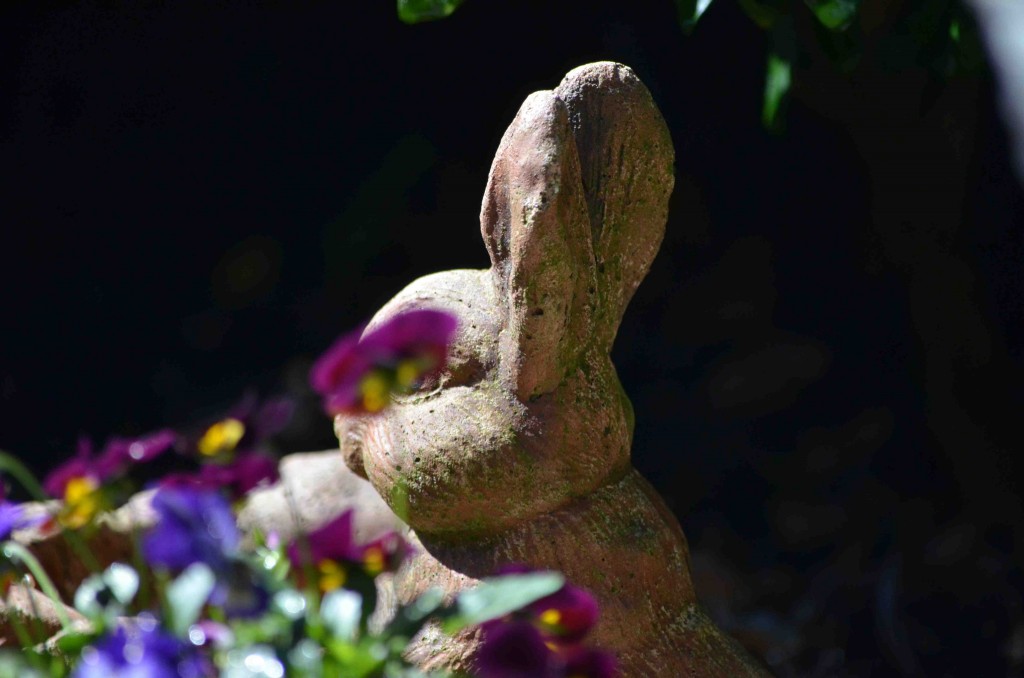 Of course, a Queensland garden wouldn't be complete without a hibiscus.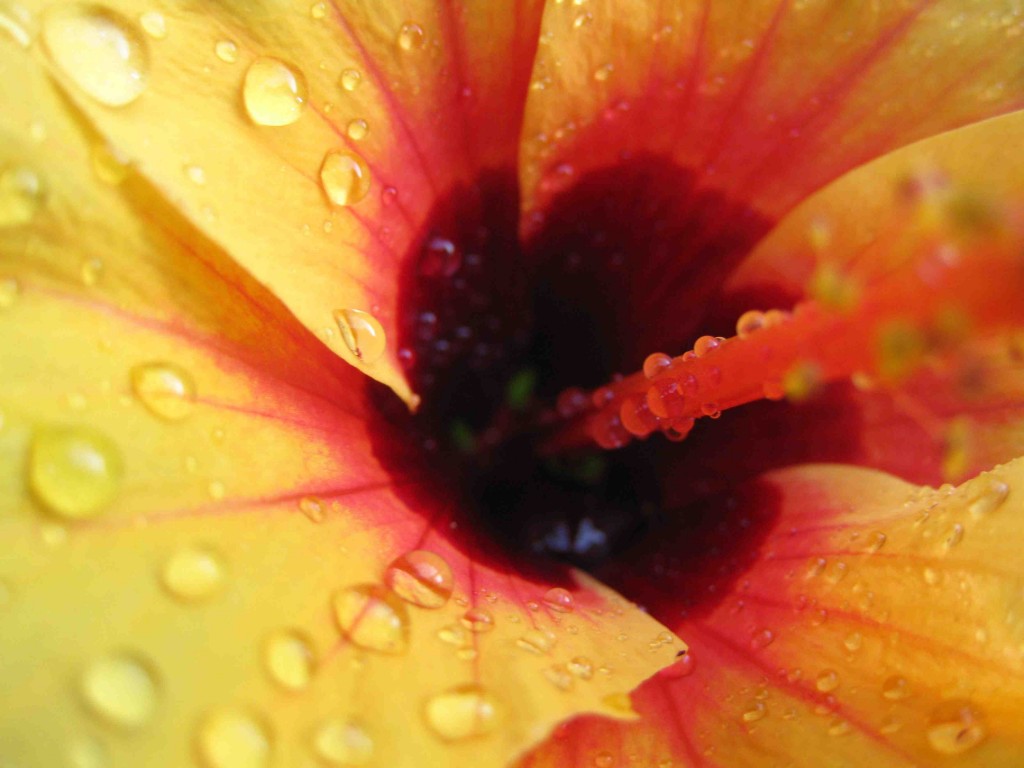 And my garden wouldn't be complete without a rose.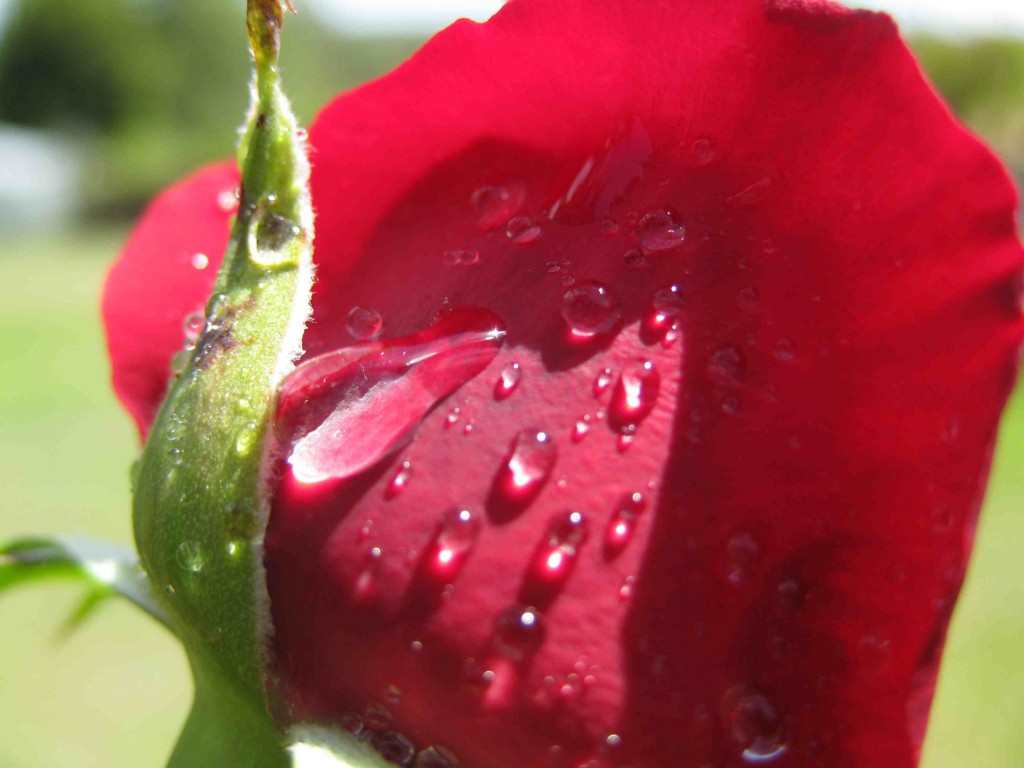 And just to top things off, this is the first fruit off our sub-tropical apple tree. And very tasty it was too!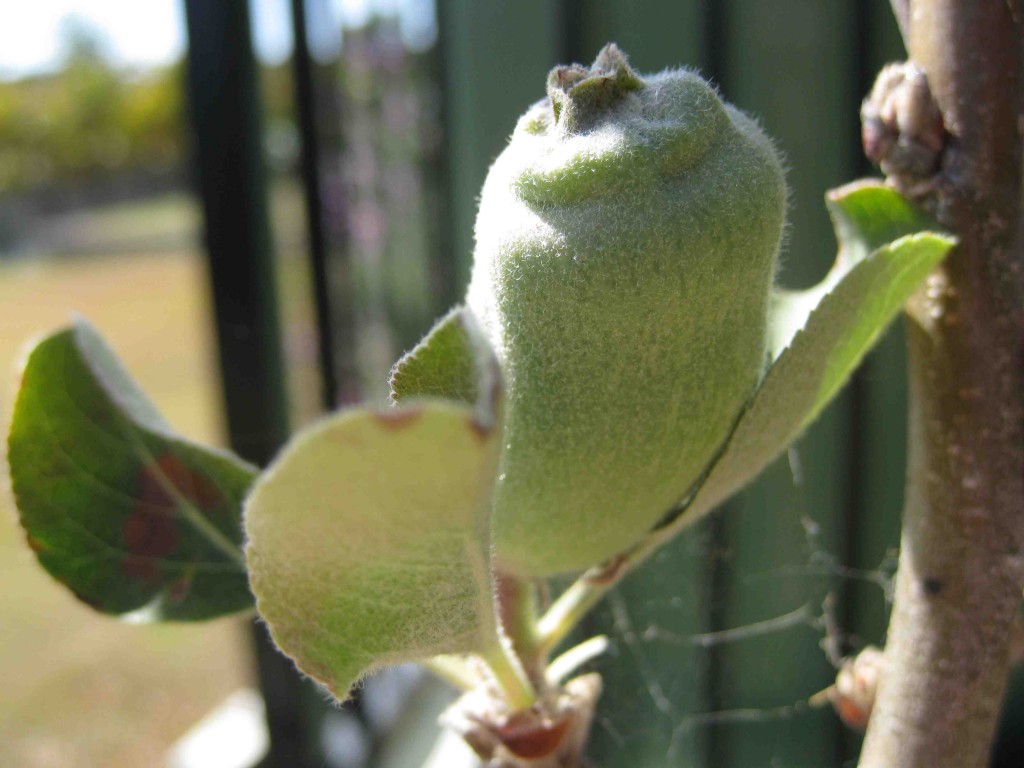 So that's where I usually hang out and ruthlessly exploit the magic of nature. J
Sandra, thanks for sharing your wonderful garden – and KC – with us today! There's certainly no shortage of inspiration in your writing environment. Looking forward to reading your next story 🙂
Sandra Harris

Born in the far north of Australia, yearly cyclones, floods and being cut off from civilization for weeks at a time were the norm. An outrageous imagination helped occupy Sandra's mind.

An abiding interest in astronomy and a deep-seated need to always see the good guys win naturally influences her writing. Not satisfied with the amount of romance in science fiction novels she set out to redress the balance.

She currently lives in sunny South East Queensland, Australia, with her husband and Cavalier King Charles Spaniel, who doesn't seem to realize she comes from royalty and should act in a more appropriate manner.

Find Sandra at http://www.sandraharrisauthor.com/blog/

Follow her on Face Book

Chat with her on Twitter
ALIEN, MINE

Torn from modern day Earth and stranded on the far side of the Galaxy, Sandrea Fairbairn must use every particle of courage she possesses to adjust to her new life and live for tomorrow.

Eugen Mhartak, a general in the Tri-Race Alliance Army, refuses to bow to the merciless Bluthen. Haunted by the loss of far too many innocent lives he has vowed to drive the ruthless invaders from Alliance space.

The strength and valor of Eugen Mhartak attracts Sandrea as no man ever has, but she struggles to read the enigmatic general's heart. Determined to help him triumph over the Bluthen she uncovers a diabolical plot against the Alliance.

Drawn by the courage and exotic beauty of Sandrea, Mhartak battles to overcome the barriers of cross-cultural differences that separate them and claim her ardent interest. He must conquer his deepest fears to be the man she needs. When his principles are betrayed by his own government and he is faced with the impossible prospect of taking Sandrea's life in order to save his home planet, Mhartak desperately searches for a way to keep safe both his world and the magnificent woman who has stolen his heart.

Buy ALIEN, MINE at Amazon