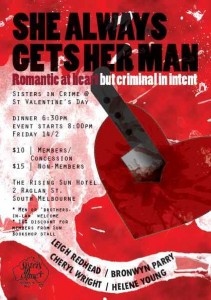 Of course! And why wouldn't she? Isn't everyone a sucker for a happy ending?? Last Friday in Melbourne I hope Leigh Redhead, Bronwyn Parry, Cheryl Wright and I convinced the audience we all need some optimism in our lives. And if we didn't, we had fun trying!
The panel discussion at the Sisters In Crime Valentine's Day event ranged from 'how do you write sex scenes' to 'is there truth and justice in Romantic Suspense' to 'why are all the cops portrayed as damaged?' The fact the bloke asking the last question was an ex-cop wearing a pink shirt gave it extra credibility. And I'm pleased to say we decided damaged heroes weren't mandatory, but gave great depth to the story through the power of healing.
I loved the truth and justice question because I do think that concept is central to the genre. The good guys not only solve the crime and ensure justice is served but on an emotional level the characters are forced to face the truth. Justice isn't always about a prison sentence or a fine.
And sex scenes? I laugh every time I hear Bron Parry's comment that 'Rom Sus is kissy bits and dead bodies, but not necessarily at the same time.' The sex scenes question is one that is always asked of Romance authors. A recent radio interview in Brisbane with the talented Anna Campbell highlighted that even avid readers who accept authors are writing fiction can still be certain that we write sex scenes from personal experience. We argued the case that every character is going to approach a love scene in a different way so clearly we can't be writing from personal experience – except for the obvious mechanics of what fits where!!
The other question that sparked some debate was whether we see ourselves as feminists. For me that's a resounding yes because I'm an advocate of women being able to achieve their goals at the highest level in society and there's still some way to go before that's the accepted norm. I don't consciously set out to write female characters who would be classed as feminists. I prefer to let their actions show their willingness to push boundaries, but 'my girls' are also a reflection of the young women around me so they are as much a tribute to the passion and dedication I see every day as an attempt to challenge society. I also think Romance of any sub-genre is most definitely a feminist genre – books by women, about women and written largely for women, showing successful, accomplished characters who can hold their own in our modern world are affirming stories.
Since you couldn't all be there for the evening – and thanks to Carmel Shute and the SINC team for inviting us down for a chat – how would you answer the questions? What is it about a damaged hero that makes us love them more? Do you see yourself as a feminist and do you see romance as a feminist genre? When you read a love scene do you have horrendous images of the author contorting themselves into weird and unusual poses? (Capt G is currently laughing hysterically at the thought of being manipulated…)
Over to you!