The lovely Jenn J McLeod tagged me last week in a post about our writing process.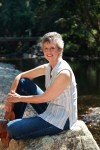 No stranger to embracing a second chance or trying something different, Jenn took the first tentative steps towards her tree change in 2004, escaping Sydney's corporate chaos to buy a small cafe in the seaside town of Sawtell.
Moving to the country was like coming home and she now spends her days maintaining her NSW property and writing contemporary Australian fiction—life-affirming novels of small town life and the country roots that run deep.
Securing a two-book deal with Simon and Schuster, her debut novel—House for all Seasons—was released March 1, 2013 to rave reviews. Book 2 in the Seasons Collection—Simmering Season—follows April 1, 2014, with books 3 and 4 contracted and scheduled for release April 2015 and 2016.
Her post was fascinating, as Pamela Cook's was the week before. Now it's my turn!
So here goes.
1) What am I working on?
I'm working on a redemption story. A character from SAFE HARBOUR, who most definitely crossed the line, deserves to tell his story and he's not stopped pestering me since I finished the last story. He's charismatic, flawed,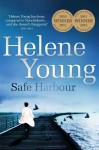 wounded and gorgeous. And I'm smitten… So there's nothing to be done but roll up my sleeves and get writing.
Some of the same threads that I drew together in SAFE HARBOUR are still there – small communities, extreme weather events and how isolated communities cope with that, international crime syndicates using the little guys to build their empires, and the idea of how far someone would go to protect those they love.

2) How does my work differ from others of its genre?
Romantic Suspense, Romantic Thriller, Crime with a Love Story, are all possible tags for my stories. The main difference is the Australian setting. Bronwyn Parry also writes in this genre. Between us we're hoping to grow awareness that there are books like those written by American Authors Nora Roberts, Linda Howard, and Sandra Brown that have an authentic Australian feel and deal with issues we see in the news every day.

3) Why do I write what I do?
I've been a life-long reader of crime, action and spy stories BUT I love a happy ending. I'm an optimist, a glass half full kind of girl, who believes passionately that we need to be able to escape from the real world and enjoy the endorphins of a satisfying, uplifting happy ending!
4) How does my writing process work?
Writing process? What writing process?? I start with a character, or a place, or an idea, or a theme and I sit down and start to write. From there the story either takes off or I realise I don't have enough information and need to do some more research (read procrastination…). If it's ripping along I'll get that first draft down and dirty and then start the real writing work in the editing. I'd love to plot a little more, but then I lose the spontaneity, and then I get bored…
If I'm bored them I'd have to expect my readers to be bored as well… So I'll stick with being a panster who gives her characters free rein and then hangs on for the ride – tears, laughter and heart-ache are sure to follow 🙂
So back to you. Do you have any tips you'd like to share? Or any questions as a reader you'd like to ask? Happy to chat 🙂
And here's where I have to admit that I was supposed to tag three other writers and I failed miserably so I'm going to do the next best thing and tag the authors in Jenn's post so you can visit them!!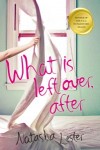 Natasha Lester – award winning author of two novels, If I Should Lose You and What

is Left Over, After. She also teaches creative writing through the Australian Writers Centre, and when she's not teaching and writing, she spends her time playing dress-ups with her three children.
Zena Shapter – a British-Australian author who loves putting characters inside the most perfect storm of their lives, then watching how they get out. She likes wild rides through the gulches of adventure that spit you out breathless, and close-to-reality books of the unexplained. She's won seven national fiction writing competitions (all blind judging), has been published in magazines such as "Midnight Echo" and anthologies like "Award-Winning Australian Writing" (Melbourne Books, 2012). She is represented by literary agent Alex Adsett.

Website: http://zenashapter.com/
Facebook: https://www.facebook.com/ZenaShapter
Twitter: https://twitter.com/ZenaShapter
Google+: https://plus.google.com/+ZenaShapter/posts
Pinterest: http://www.pinterest.com/ZenaShapter/