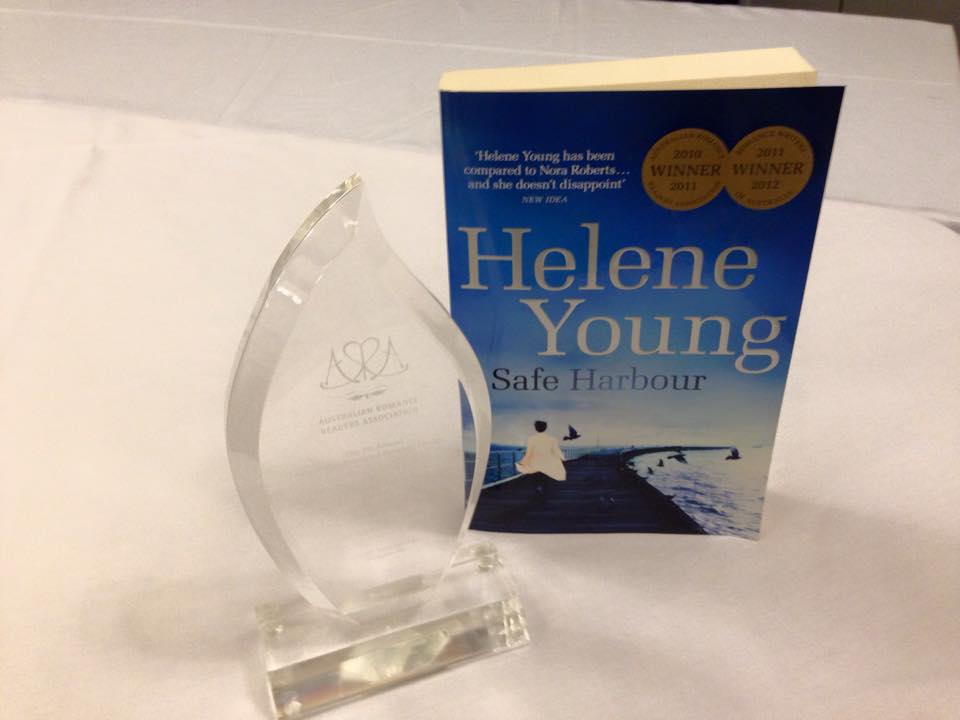 Congratulations to all the winners at last night's Australian Romance Readers Awards! Kylie Scott was a huge winner, picking up three awards.  Also recognised were Nalini Singh, Anne Gracie, Kelly Hunter, Rachael Johns, and all the others.
I'm delighted that SAFE HARBOUR was voted Favourite Romantic Suspense 2014. A very big thank you to all the readers who voted for my story. But as always there's a team behind every good book and I thought I'd share the acknowledgements  from the book because this award belongs to everyone mentioned in it.
Acknowledgements

Firstly, thanks to all my readers, friends and family who've supported me since my first book, Border Watch. Your emails and messages are a joy. I hope you enjoy Safe Harbour, a story which is very dear to my heart.

Flying into remote areas I've always been conscious that young people have limited options for their future. Sport, particularly footie of any code, provides opportunities. When I met Sergeant Howard Pratt at the Cooktown PCYC I knew I wanted to explore the important role policemen like him play in rural communities. Then it was over to Darcy, Noah, Conor and Rosie to tell the story of Banksia Cove, a village I've dropped onto the Queensland coast near Bundaberg.

As usual, many people added much to the story. Thanks to my wonderful publisher, Ali Watts, who believed in Safe Harbour when it was only nine pages long and continues to provide wonderful support. To Louise Ryan and her Penguin Australia sales team thanks for working so hard behind the scenes. Thanks to Caro Cooper who edited tirelessly, and a very special mention to Chantelle Sturt for her infectious enthusiasm.  Clare Foster, my agent, has been a rock this year – thank you.

Colleen, from Raven's Parlour Bookshop in the Barossa Valley, took the time to tell me about her son's work in the Australian Defence Force, recruiting indigenous teenagers who don't make the cut with sports teams.

Donna Gallagher generously shared her insights into Rugby League – and writes a great story herself. Thanks to Wendy Johnson for revisiting her courageous battle with ovarian cancer.  Wendy and Bronwyn Parry are responsible for Capt G and I frocking up in November to fundraise for ovarian cancer research.

Thanks to Glenn for advice on general policing and to 'he who can't be named' for a peek into a Special Emergency Response Team.

Thanks to the Volunteer Marine Rescue and Volunteer Coastguard, who took our radio calls as we travelled the Queensland coast in Roo Bin Esque. The boating community is safer because of your tireless efforts.

A huge thank you to The Get Reading team. Bethany Clark told me to 'put on my big girl panties and get writing' at a moment when I couldn't see the tunnel, let alone the light at the end. Ali Crisp made me feel like an author. Thanks to the wonderful community of romance writers, too numerous to name, who've kept me company on this journey.

My sister, Bronwyn, continues to provide support even when life gets in the way. 16,798 kms is nothing between sisters.

Lastly, without my husband I would forget to eat and probably wear sarongs all day. Without him, Zeus the Salty Seadog would be lucky to get a walk, let alone a game in the park. Most importantly, without Capt G there'd be less laughter in my life. Thank you just doesn't say enough.