Anyone else remember that advertising campaign from the 1980's when the Queensland Resort Islands were at their peak? It's been 26 years since our first visit to Great Keppel when I flew north as a brand new private pilot with Graham and some of my fellow trainees. Eight years later my first job with QantasLink was flying mighty Twin Otters to Great Keppel, Brampton, Dunk and Lizard Islands. It's lovely to be back in the area.
Yesterday was hard work (hence no post last night). We were the first ones out of Pancake Creek in the morning and 12 hours and 70 nautical miles later we arrived at Great Keppel as night descended. It was a long day with plenty of jibes, lumpy seas and winds that reached up to 25 knots by the evening.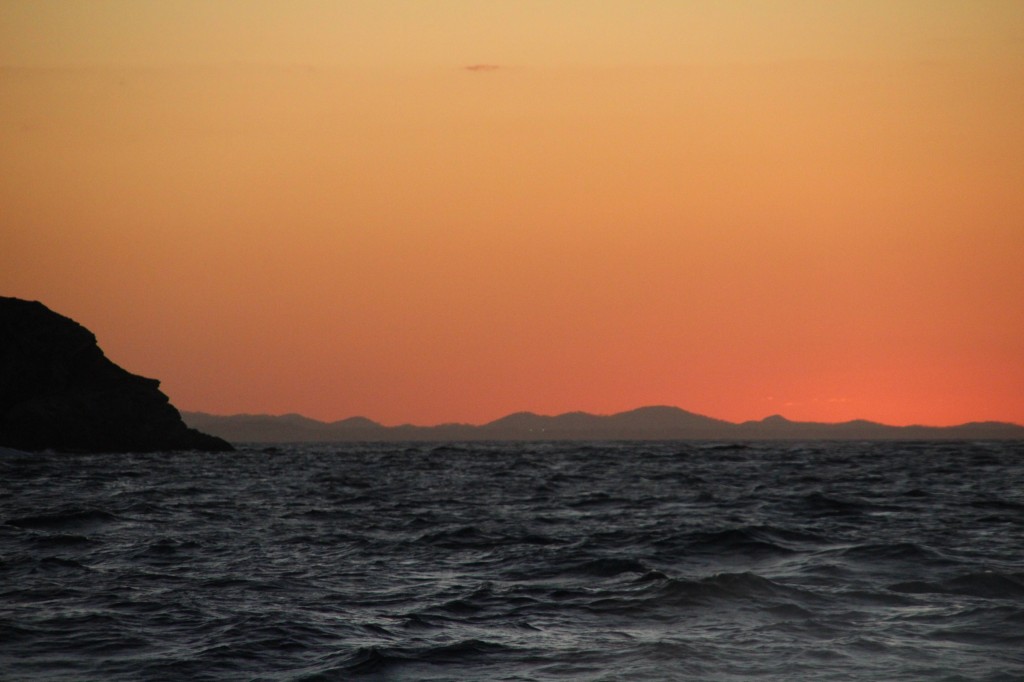 The downside of Roobi's design is we can't run with only a headsail hoisted – the one at the front of the vessel – but have to have the mainsail up as well. That means we sailed a zig zag course up the coast, travelling many more track miles than if we could head directly with the wind behind us. It did make for entertainment tracking between the moored tankers off Gladstone though! Sadly it also meant a monohull yacht overtook us – not something Capt G likes to see 🙂
On the topic of those container ships. Have you ever looked at how far the orange life raft has to fall if they need to launch it? I hope they have the sailors securely strapped in before they fire them because I'm thinking the ride's going to be a wild one!
We also had whales and dolphins for company again. As we passed Cape Capricorn a couple of young bucks were playing, but sadly I was a little too busy to grab the camera at the time and only managed on slightly blurry snap as we scooted past them.
We plan on spending at least today at Great Keppel and I hope to catch up on some writing and sleeping! Plus there's exploring to be done. We've been told to check out Svendson's Beach Retreat so we will!