We're back on-line again after a busy four days alternating between being battered by the wind or becalmed! Such is this sailing life.
As we entered the Telstra black-hole around Shoalwater Bay (which some of you will know is a Military Training Area so it's understandable why Defence may not want their troops having access to Face Book while on exercise!) the Bureau of Meteorology forecast 20- 25 knot winds and 2 metre swells. By midday we had two reefs in both sails because of the 33 knots of wind, were doing 11 knots boat speed and surfing down waves considerably bigger than 2 metres. We'd planned to overnight in Pearl Bay and were very relieved to drop anchor in the relative calm, although the wind was still howling at 25 knots in behind the hills. With a stack of anchor chain out we rocked and rolled all night and woke to a white ocean with the crests of waves blown flat.
We decided to stay put for another day and give the weather time to catch up with the forecast! It also gave us time to explore Pearl Bay again. I don't know about Capt G, but it was another of those 'Oh how I miss Zeus' moments as the little fella had such fun on our previous visit… Pearl Bay itself had taken a battering from Cyclone Marcia. Not that we really need to be reminded of the power of cyclones but the dead trees, and those valiantly recovering, brought home how powerful wind can be.
The next day was a ripper and we made it through to Middle Percy Island in time to stop and go ashore. Like so many of the islands along the Queensland Coast it has a fascinating history. There'a a shack where visiting yachties leave the name of their vessel. It's a wonderful way to chart the course of the cruising fraternity – and many have come back year after year.
From there we headed to Scawfell Island and a quiet night's anchorage. The most eventful part of yesterday was finding ourselves in the path of not one but two cargo vessels. While technically a vessel under sail has right of way if the larger ship isn't constrained by its depth or the channel, we had no intention of playing chicken. The first ship sounded very bemused when I called them up to reassure them they just needed to hold course and we would pass behind them. I didn't bother with the second one and we dropped sails and motored to make sure we were clear.
Today we had a change of plans when the winds dropped away mid-morning. Instead of Shaw Island we're now anchored at Brampton Island. That's brought back some lovely memories of flying here in Twin Otters with QantasLink (Sunstate Airlines) back in 1997-98. It's a beautiful spot, although the resort is currently empty and waiting for a make-over. I dragged Capt G to the top of the peak (and we're both suffering stiff legs now…) and the view was worth it. Even more wonderful for me was spotting a koala in a tree on the way down. The kangaroos didn't stick around long enough for me to snap their mug shots though… We also found ourselves in the middle of a butterfly cloud. I have no idea what variety they were, but it was magical!
So that's what's been happening to us. Hope your weekend lived up to expectations and you're already planning the next one!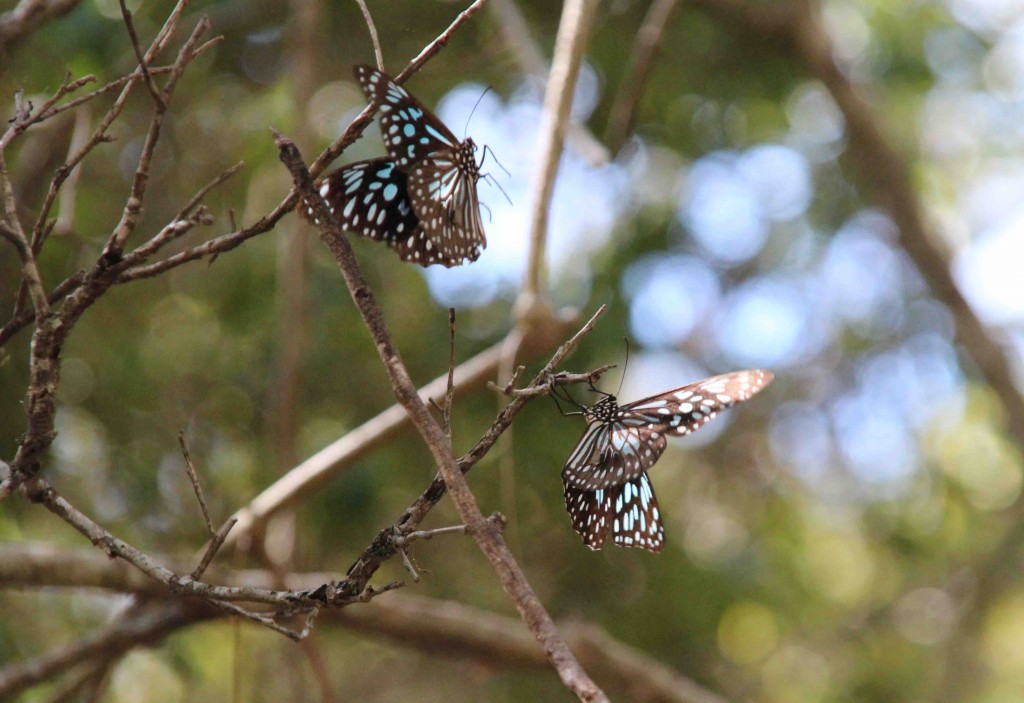 Butterflies on Brampton Island