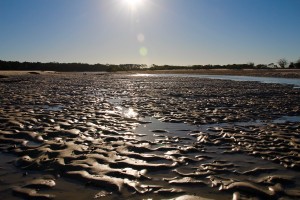 We survived the wild weather in good shape, but our thoughts are will those further south how sustained damage to their homes and boats… The devastation is hard to watch, especially in places like Devonport and Coffs Harbour where entire marinas were severely impacted.
With the calmer weather we headed to Torquay in Hervey Bay to catch up with the lovely TJ Hamilton and her family. She's a talented young writer I met a few years ago when I took part in a writers' festival in the Bay. It's been wonderful to watch her career blossom and I wish her all the very best with her new career path in Sydney. We'll miss being able to catch up with them when we pass this way again…
We're anchored at Moon Point for the night and a very big thank you to one of my flying colleagues, Andrew, for alerting me to the fact Mars is visible in the night sky. It looked amazing as the sun set tonight. Sadly, I couldn't capture a photo of it, but I did take a few extra snaps ashore to share on the blog tonight.
When we paddled ashore in the kayak the tide was still dropping so we walked across the estuary to the other side of the point. As we were heading back we took a short cut. Bad move… We both found ourselves up to our knees in mud… Graham had to dig to retrieve his shoes. Thankfully mine stayed attached to my feet, but I had to crawl out on all fours to get back to solid ground. I only wish I'd been able to take photos…. We must have looked a sight.
Now we're finally heading north again I've started editing my next book. It's challenging as I know it needs a major restructure, but it's also uplifting. More than any other story I've written this one has themes very close to my heart. I can't remember who it was who said a writer needs to drip their own blood into their stories. I'm bleeding into this one and it's both cathartic and painful. I hope the story resonates once it's finished!!