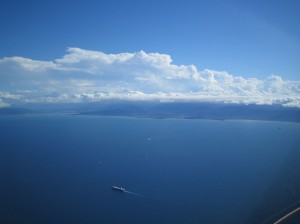 The best feeling in the world is waiting at an airport knowing I'm heading home. True, I am an aviation tragic so being around aircraft makes me happy, but knowing the destination is hovering just out of reach is what lifts my heart.
In three hours I'll touch down in the velvety heat of North Queensland. The humidity will squeeze my lungs and raise a sheen on my arms and face. My fellow travelers will be discarding their layers of clothes and I'll embrace the warmth. Places, faces, the integral traces of the tropics welcome me back. My shoulders will lower and I'll truly relax. The anticipation of seeing GW and Zeus again keeps me sane through even the toughest week.
In two weeks we're heading to the UK (but don't tell anyone incase the weather gods or volcano goddesses find a way to disrupt our plans for a third time…). Right now there's a spring in my husband's step that isn't always obvious at this time of year as the courts overflow with Christmas angst. His smile is a little wider, his laugh a little louder and his touch a little more tender.
It struck me that he's no different to me. He's going home. Maybe he says he'd never live in the UK again. Frequently he says the weather's disgusting (in his inimitable Manchester accent) and yes he's been known to complain it's too cold there. But it was his home for thirty years and his family still live there. No wonder GW is excited. This Christmas he'll have us all in the one place. (Except for Zeus who'll be guarding the Christmas tree and amusing his house-sitter!)
So what does Christmas hold for you? Do you have several homes scattered across Australia or the globe? Is the joy in the journey or the destination?