Anyone who's dined at our place will recognise the photo on this page as I am proud to have the largest collection of Sarianti dinnerware and I love it! (If you're really lucky then you may have a piece or two of your own!)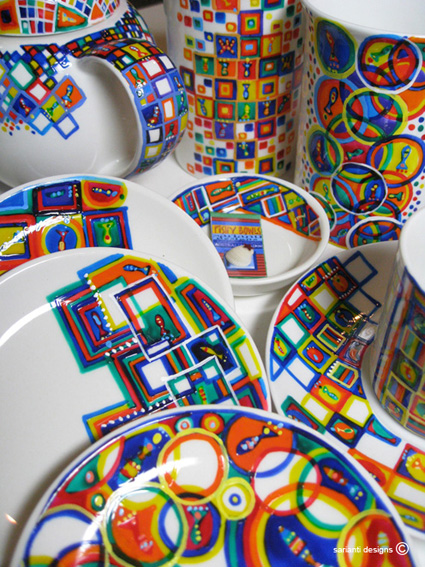 Tanya Sarianti is an award winning artist who also happens to paint beautiful ceramics. She recently moved to Brisbane and her art is now available in the Valley at in.cube8r gallery at 368 Brunswick St. If you're looking for a completely original gift for mother's day this should be your first stop. And if ceramics aren't your thing then the gallery has a feast of other wonderful art works by a multitude of Australian artists.
For those of you in Cairns, Underart Gallery stock Tanya's work and Iefje Boissevain, the gallery owner, showcases even more wonderful artists so no shortage of ideas there either!
Since The Australian Women Writers Challenge has been such a powerful force in bringing recognition to a host of Australian writers I've decided to spread the love. Know any talented Australian artists you'd like to recommend?