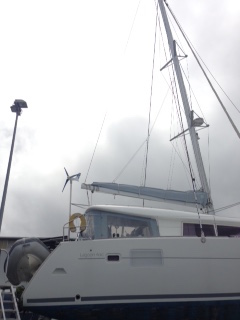 We woke to the sound of pitter patter on Roobi's decks and it wasn't the footsteps of little elves finishing the painting… July is traditionally a dry month in Brisbane. Nothing like a break with tradition to rain on our parade.
Capt G resorted to polishing the underside of the centre deck – I look forward to seeing an increased boat speed with fiberglass so glossy I can see his reflection in it!
I vacillated between writing Freya's story, polishing stainless steel, keeping a close eye on the nice young men who came around to lubricate our cap shrouds, and chatting to Sharni on the boat next door.
One of my former colleagues, Morris Jones, drove all the way down from Brisbane for a quick catch up before we leave. It was lovely to see that, like Capt G and I, he hasn't aged a day in 20 years! (I love that my glasses give the world a soft finish and never more so than when I'm looking in the mirror 😀 ) Morris was also kind enough to pick up some fresh milk and some delicious snacks. (Please take note
all of you who plan to visit Roobi and her motley crew – it's not hard to endear yourself!)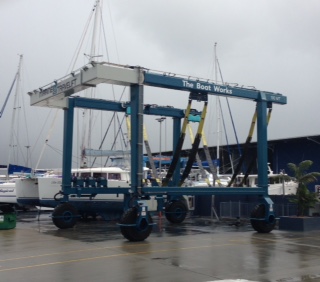 'Harry the Hundred Weight Lift' was parked next to us most of the day. It's a reminder that we are a very small boat in the world of marine craft!
Being eternal optimists we're hoping for sunshine tomorrow. If not tomorrow then Saturday. If not then? Well, we might start to worry…
I slept in this morning so no sunrise… I shall try and do better tomorrow!
And if you want to see what the tradesmen looked like – check out my other Face Book page. 🙂