After our speedy run to Airlie Beach to re-provision, where I clocked up 18,000 + steps on my fitbit, we decided to head out to the islands again. The closest anchorage we hadn't visited before was Bauer Bay on South Molle Island. We had a lovely run across with the sails up and dropped anchor off the jetty before the sun set.
The swell pushed in during the night and just before we went to bed we realised we'd dragged about 50 metres so we didn't sleep quite as well as we'd hope… such is this boating life 🙂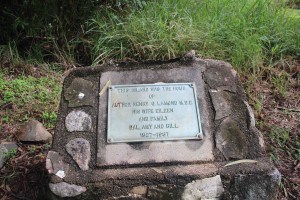 By next morning we were confident the anchor was holding this time so we kayaked ashore and went for a walk. The resort, like so many others, has been closed for several years. The caretakers are clearly taking some care, though, as while the island is empty it's still well kept.
South Molle was home to Henry G Lamond and his family between 1927-1937. He was an Australian author and bushmen who was published internationally. I could see the appeal of living on the island paradise.
We walked to Balancing Rock and then Mt Jeffreys, the highest point on the island. It's a pretty walk and gently sloping with the added bonus of being downhill all the way back to the beach!
At the summit a fire must have ripped through last summer and most of the trees haven't regenerated. The stand out survivors were the grass-trees and I do hope they spread some more to stabilise the soil.
Back on the water I couldn't resist paddling under the jetty with its decaying pylons surrounded by shimmering water.