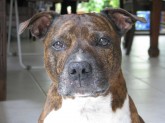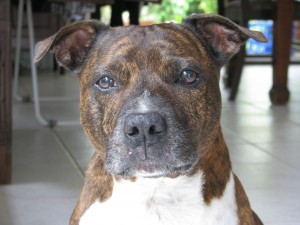 Hello! It's me. It's Zeus.  Miss me?? I've be planning to write this really witty blog about how I'm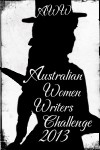 turning into a three-legged dog, but then Helene had to make a mad dash to Brisbane because her Mum's in hospital (big wave, Grandma, sending you sloppy licks!) and my life got complicated…
GW is a little more high maintenance when Helene's away. Today I had to stop him moving a stack of books. I know Helene had left them out because she wanted to list them all for that Australian Womens Writers Challenge thingy (technical, I know…). She's very busy in Bris so I thought the least I could do was post these books so you could all see that she's not forgotten you. Of course, I'm not sure what she actually thought of any of these, but here are my observations of how she behaved when she was reading them. (Don't tell her I'm actually very alert when I have my eyes closed 🙂 ) So, in no particular order here they are!
ROUGH DIAMOND – Kathryn Ledson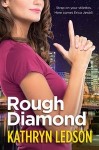 She laughed out loud at this one. Had to keep reading smart lines out to us. I got a bit worried at one stage she was going to read the whole darned thing to me and GW, but I have to admit Erica Jewell has a lovely smart mouth. Helene also got quite soppy in the chapters about Jack. That probably means he has bigger biceps than GW… She did keep saying it was better than Stephanie Plum by Janet someone so I think that means it was a good book!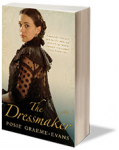 THE DRESSMAKER- Posie Graeme-Evans.
Lots of sighing with this one. Lots of curling up more tightly in the arm chair and a whole lot of tears. She also stroked the pages when she was reading  the odd line aloud. That means it's something very special. It was an historical novel and it clearly absorbed her because she didn't hear GW when he was talking to her!
HEARTS BLOOD'S, Juliet Marillier.
Another one Helene couldn't put down. She should have been doing any manner of useful things, like helping GW paint, or play with me or even cook dinner but no… She started the book mid-morning and the lights didn't go out until she finished. GW and I were stuck watching lousy late night TV just to keep her company but I'm stuffed if I know why since she was completely oblivious to us… This one was fantasy historical fiction – is there such a genre?
THE GIRL IN THE HARD HAT- Loretta Hill.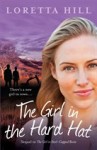 She smiled a lot while she was reading this one. Plenty of chuckles, rapid page turning and I think the hero must have been pretty hot too. She did manage to turn the light out, but largely because GW was soooo tired he'd gone to bed… But as soon as she woke up she had her nose stuck in the book again. Said it was a good Australian story with plenty she could relate to.
She also snuck in a couple of e-books, but I don't know what they were so she'll have to tell you about them herself when she's back on deck.
Ciao for now. GW is calling…