Lying in bed this morning we debated for five minutes whether we were listening to heavy dew or light rain dripping on the decks. It was still dark, but the only thing I could see through the hatch above us was the anchor light at the top of our mast. Where were the stars? Turns out they were hiding in the thick fog that clung to Roobinesque. In the early light we couldn't see the shore, any of the marker beacons or more than fifty metres in front of the boat. We were up early so we could ride the rising tide through the Sheridan Flats, but we couldn't move until the fog lifted. I kept hoping Capt Jack Sparrow or Hornblower himself might appear, but no such luck… Just Capt G with another cup of coffee  – which was a very fine sight on a cold grey morning 🙂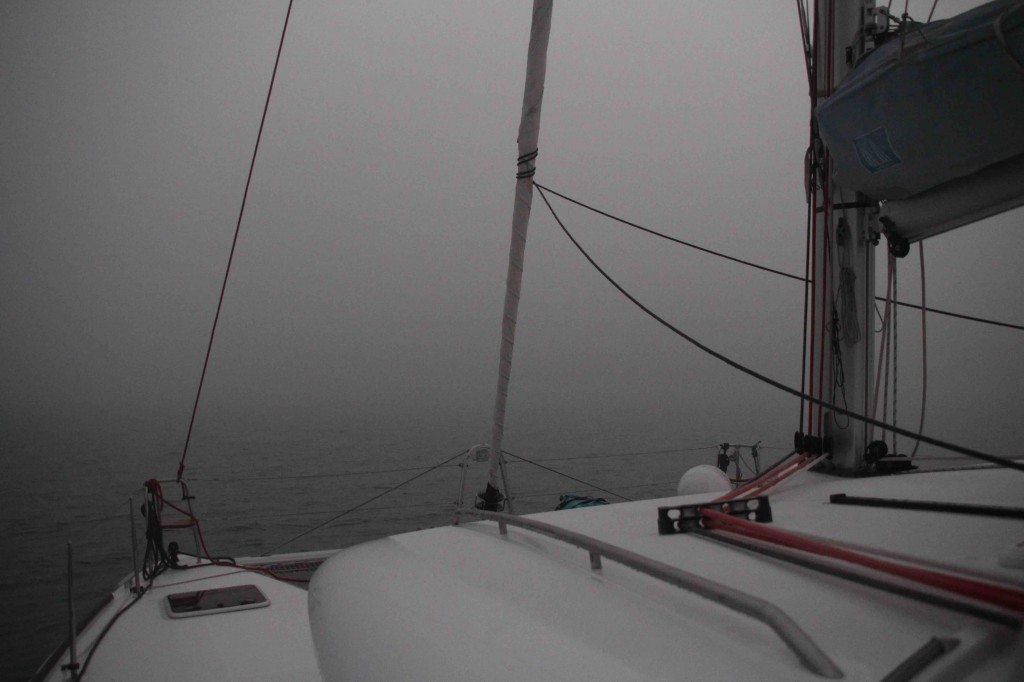 Two hours later it was as though a giant doona was pulled from the deep blue sheets of the Strait as the fog bank rolled away to the west. A landing barge appeared in the channel next to us heading north. We followed, watching the mainland slowly emerge from its white shroud. The top of the tide came and went and we still had an hour to go to the start of the Flats. The current increased to 2 kts against us – not a good thing if you're only doing 5 kts to start with!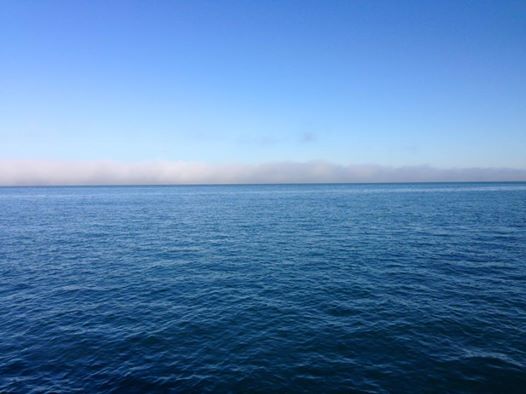 Since we only draw 1.2 metres we figured we still had plenty of water under the keel so we carried on chugging in Roobi's sedate style and in the end the crossing was uneventful. The co-ordinates of the waypoints had all been plotted into the navigation system so all we had to do was keep tracking along the path. It was a little disconcerting at one point when Waypoint 13 appeared to be on dry land and the port marker we were supposed to round was definitely not in the position it showed on the chart!
We were greeted by the predicted strong northerly winds as the channel widened so we snuck into South White Cliffs to anchor. It's not perfect, but if the wind shifts as expected to southeasterly later tomorrow we'll be in a good position. Another beautiful wooden sailing boat joined us late this afternoon  – just in time to see the sun set!